Say what you want...what you like...and that you're a "Tasty Girl"
Welcome to TastyGirl.net
We feature tasteful intimate apparel and content for your enjoyment and enhancement of your personal and passionate lifestyle. Our fashion line is inspired by pop culture, music, film trends, and will influence next trends. Entertainers and Dancers are welcome to request a discount, and are encouraged to show your good taste.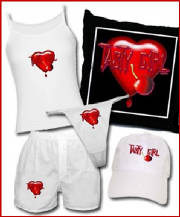 click to buy our products.
SHOP with us online for Tasty Girl Intimates and limited edition Merchandise with our logo.
Please click on the icon to purchase our logo on limited edition products. This site is still under development we will be adding to our offerings and website during 2009 so please shop back.

Tasty Girl Brand, Website, and Entity is a product of exit 4 multimedia group. It is flavorful and filled with fun and not x-rated yet. But please if under 16 shop with an adult. We are not connected with or affiliated with tastygirl.com.
We accept the following credit cards:

By joining our mailing list, you will be the first to know:
News about our growing product line
Helpful tips for wholesalers
Exclusive special offers
privacy: your information will not be shared or sold